Climate action anyone can do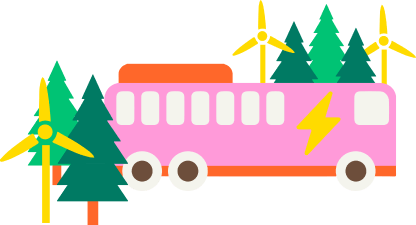 Big carbon reductions
We hand pick projects that are making real, certified carbon reductions.
We buy carbon reductions from these projects in bulk.
See our projects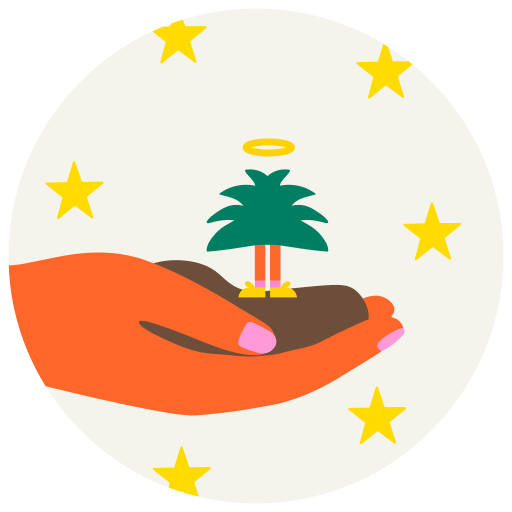 Small, easy payments
You buy carbon reductions from us in fun, bite-sized pieces.
Weekly plans, or no-commitment one-offs. Or both. You choose!
See plans and products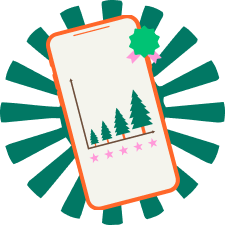 Track and share progress
Track and share your impact with your own GoodyGood profile.
We help you remember to celebrate your achievements and the impact you're making.
Meet some GoodyGoods
Frequently asked questions
We get it — there's a lot to understand. Hopefully these questions and answers will help. If not, drop us a line — we're always happy to help.
How does GoodyGood work?

GoodyGood offsets carbon emissions on your behalf by funding projects that absorb, reduce or prevent greenhouse gasses being in the atmosphere.

Each GoodyGood subscription plan offsets the average amount of carbon emissions made by a person in your chosen country or region, plus a little bit more for good measure.

If you're a keen bean, soon you can offset for more than one person. Perfect if, like every GoodyGood, you don't like settling for average.

Every GoodyGood one-off product offsets a specified amount of carbon emissions, to take care of an average person's week, or the climate impact of something that brings you joy.
What is a carbon offset?

A carbon offset is when you pay for someone else to remove or reduce one metric tonne of carbon dioxide-equivalent greenhouse gases from the atmosphere.
Where does the money go?

Your money goes towards the projects backed by your plans and one-off purchases. We lock in the carbon reductions by retiring the carbon credits generated by those projects so they can't ever be resold.

Like with any business, your money also goes towards GoodyGood's operations and growth.
Who are you?
Are you a charity?

No. We're a carbon offset retailer, which means we're a business that helps people who want to do more about climate change offset their carbon emissions and fund climate projects.
How does GoodyGood make money?

We buy carbon reductions (certified carbon offsets and other climate initiatives, like tree planting) in bulk, sell them in smaller pieces (e.g. weekly subscriptions, pet offsets) and help our customers keep track of their carbon reductions with our web app. We apply a markup to the carbon reductions that we retail.

We keep our prices stable for our customers and are sourcing our carbon reductions from new projects all the time, so our markups aren't fixed — they depend on which GoodyGood product you're buying and how much the carbon reduction cost us to buy.
I'm already reducing my emissions, why should I offset?

Reducing your emissions to start with is definitely the way to get an A+ in climate action, so that's awesome.

As you'd know, carbon emissions are involved in pretty much everything we do and consume. So if you want to do more about your climate impact, then offsetting is a really good option for dealing with the stuff you can't reduce or cut out.
How can I be sure your offsetting projects are high quality?

We only back projects with carbon credits that are:

On the New Zealand Emissions Trading Register, a compliance-market emissions trading scheme run by the New Zealand government; or
Certified under the Verified Carbon Standard, Gold Standard, Plan Vivo Standard or the United Nations' UNFCCC CER mechanism.

Our team includes people experienced in international development projects and we look really carefully at projects to make sure they do more than just mitigate climate change.

We're really into projects that also hit a number of UN Sustainable Development Goals, or that progress other really important objectives, like biodiversity and conservation.
How does carbon offsetting ACTUALLY work?

A good way to think about how carbon offsetting works is the simple example of planting trees. Planting trees is super-fab and fun to do, but just because a tree is planted, doesn't mean it will absorb the carbon you expect it to. To convert physical trees into a legit carbon offset, the benefit of the trees need to be:

Additional (e.g. wouldn't have happened anyway)
Measurable and verified
Permanent

So, with a tree-planting project, you'd need to be clear that:

The trees wouldn't have been planted without the project.
The people planting the trees go through a process to work out how much carbon is absorbed by the trees - this is done by someone independent and qualified, to a recognised set of standards.
The tree planters make promises about what happens with the trees (e.g. they can never be cut down) or if something goes wrong (e.g. a 'buffer' of extra trees has to be planted in case some of the trees die).
There's ongoing work, maintenance and the ability to check to make sure the promises are kept.
Carbon credits are created on a registry. These are basically rights to the carbon that the trees are absorbing. The carbon credits are traceable and can be bought and sold. In this state, carbon credits aren't able to help anyone become carbon neutral - just because a tree is being bought or sold doesn't mean it has absorbed any more carbon.
Carbon credits turn into offsets when they're retired from the registry (the tree planter has to keep their promises, but the rights to the carbon being absorbed can't ever be sold again). The retirement is recorded on the registry and can be shown to prove that it's been done.

When a carbon credit is retired, the number of available carbon credits drops, so for more credits to be made, the tree planters have to plant more trees and go through the process again. If people keep buying offsets, then the price of carbon goes up, which is a good thing, because:

Creating pollution should be expensive.
More projects to reduce or remove carbon from the atmosphere can happen.
Innovative but expensive new technologies (e.g. direct air capture) become more viable.
How can I be sure you're retiring carbon credits properly?

We'll let you read our secret diary to check.

We publish all our carbon credit retirements in our GoodyGood Retirements Journal. Every time we retire carbon credits for our customers, we update the journal with details, including links to where to you can find the retirement entry on the relevant registry (and a timeframe on when to expect entries to show up on a registry if the registry normally takes a while to be updated, e.g. New Zealand's Emissions Trading Scheme Register), and a certificate of retirement if we're provided one.
Will carbon offsetting solve climate change?

Carbon offsetting does actively remove or reduce the emissions that cause climate change in the atmosphere. However, climate change is really complex and pretty much every solution is somehow imperfect when you look at it in isolation, including offsetting. There are no magic bullets.

So, you can add carbon offsetting to your existing mix, use it to get started, or use it to start a conversation. It's all progress, which is all worth celebrating.

It is just one of many things that you could do about climate change, like:

Reducing your own emissions
Helping other people reduce their emissions
Influencing the impact your employer or business has on the environment
Being purposeful about how you spend and invest your money
Helping bring about more systemic change

There's lots of different ways to help beat climate change. None are perfect by themselves, but the good thing is you can pick more than one. Or all of them! When it comes to climate action, more is more.
Is this just for people in New Zealand?

GoodyGood is based in New Zealand, so we've started out by focusing on our home market. All our prices are in New Zealand dollars and our 'Local' plan uses projects that are local to New Zealand.

If you're not in New Zealand, you can still sign up to GoodyGood - some of our earliest customers came from Europe, Australia, Asia and the Pacific. When we expand our offering to your country or region, we'll get in touch with you to update your plan (if needed) and the currency we charge you in.

Our current subscription plans take care of the average person's climate impact in New Zealand or the United Kingdom (plus a bit for good measure) and about two-thirds of the average person's climate impact in the United States, Canada and Australia.
Do you have a calculator for me to work out my carbon footprint?

No, we don't make you do a maths quiz to sign up. Our plans are designed to cover the average carbon emissions made by a person in your country or region. If you can't bring yourself to settle for average, you can double down and sign up for more than one person, or even give the gift of GoodyGood goodness to somebody else.
Why do all your plans offset the same amount of carbon?

Our plans let you choose where and how you'd like to take care of your climate impact, rather than how much carbon to offset.

Why? Because we don't really believe in stopping at being carbon neutral. We believe in progress over perfection and doing what you can. Basically, we're all about a 'more is more' approach to climate action.

So we don't try to help you be 'carbon neutral' or 'carbon positive' — there's way too much homework involved in working that out. We don't believe that's the most important thing. We believe that just doing more is, and reckon that being a GoodyGood is a great platform for you to make any other progress you can.
Can I offset my pet?

Yes, you can totally offset your floof with us.

We also accept unsolicited photos of your furry friends at pets@goodygood.co.
Sign up for our newsletter